Review of Half a War by Joe Abercrombie (A satisfying final book)
Half a War by Joe Abercrombie
Rating 5/5
Half a King is one of my favourite books. The sequel Half the World is also one of my favourite books.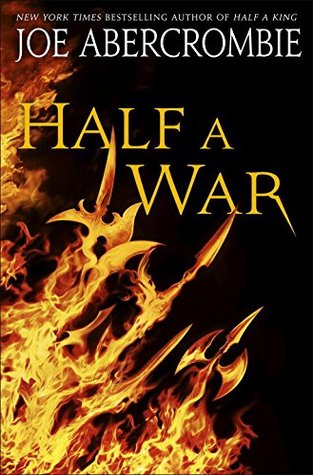 With the first two installments in the Shattered Sea trilogy, Joe Abercrombie delivered action, adventure, some great characters and plenty of bloody battles and violence. His writing style is unlike any other fantasy writer's I've read. It isn't heavy like some, but it is somehow packed with enough detail to make the story feel realistic.
Some people might not like the violence and grittiness, but this isn't high fantasy in the usual sense. There are no dragons or goblins, no giants or magic– not in the usual sense. Abercrombie grounds his fantasy world in something real, and the story benefits from it. It's a fantasy world, but it is also believable and it makes getting into the book even easier.
Not that getting into these books is hard. From the first page of Half a King, you're sucked into Yarvi's story. Yarvi becomes Father Yarvi in book 2, and his character develops even further in the final installment, along with other familiar faces, Thorn Bathu, Koll, Queen Laithlan and others. This time around, like in the second book, there are are more characters introduced, and more perspectives. But the big cast isn't too big and the perspectives don't shift back and forth too much to make things hard to follow. Most of the characters are as sharp and witty as Abercrombie's writing style. All of them are cunning.
Like in the first two books, Half a War is packed with action sequences and bloody battles. Barely a chapter goes by without someone dueling or scrapping, or getting various limbs chopped off. If you're squeamish… try this book anyway. There are more than battles and action in Half a War. Like new character Skara says, "Only half a war is fought with swords." When Abercrombie isn't delivering action and battles, he's twisting the plot and keeping things hard to predict. Characters motives shift or becomes clear, most of them lie.
The twists aren't just in character motives and plot. Abercrombie changes what I thought the world of these books was. I wasn't sure about the change at first, but in the end it worked and made these books even more unique.
Half a War isn't as good as Half the World, but it's a solid, satisfying final book. Character arcs are completed or left open, questions are answered and the violence, battles and action is as well-written as in the other books. Overall, this completes the trilogy and confirms it as one of the best high-fantasy series I've read. If you haven't started this series yet, you're missing out.
Highly, highly recommended.