Top Ten Tuesday (Halloween) – Top Ten Fictional Fighters of Evil
Top Ten Tuesday is hosted by The Broke and the Bookish
---
1 – Skulduggery Pleasant (Skulduggery Pleasant)
Along with Stephanie Edgley and a big cast of other characters, Skulduggery fights monsters and villains (often more than a few) in each of the nine Skulduggery books. He also has to fight his own evil.
2 – Celaena Sardothien (Throne of Glass)
She fights a corrupt king, friends turned enemies, and creatures as well as a growing darkness than threatens her entire world.
3 – Tom Ward (The Wardstone Chronicles/Last Apprentice)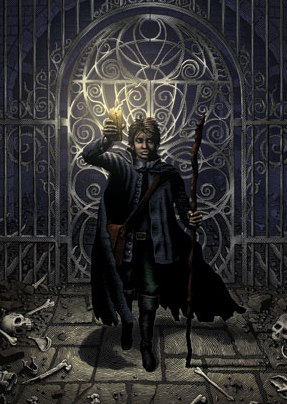 Each of the books in the Wardstone Chronicles/Last Apprentice series is packed with monsters for Tom Ward to fight. But his greatest enemy is the Fiend. He's helped by his master and trainer Gregory and the witch Alice.
4 – Anthony Lockwood (Lockwood & Co.)
Anthony Lockwood isn't the main character in the Lockwood & Co. books. Lucy Carlye narrates them, and along with George Cubbins, they help Lockwood take down malevolent ghosts.
5 – Darrow (Red Rising)
Like Katniss Everdeen, Darrow fights a corrupt government, but aims to do it from within. I've read Red Rising, but haven't got around to Golden Son yet.
6 – Harry Potter (Harry Potter)
One of the most famous evil fighters in fiction, Harry Potter has been battling Voldemort since he was a baby. But he also faces off against dementors, death eaters, evil teachers and his own dark connection to Voldemort throughout the seven book series.
7 – Percy Jackson (Percy Jackson and the Olympians)
Percy Jackson fights monsters and creatures and gods all the way through the original series, and finally faces off against the leader of the titans Cronus. He is helped by his father Poseideon and other gods, as well as his fellow demi-gods and best friends Annabeth and Grover.
8 – Tyrion Lannister (A Song of Ice and Fire)
Tyrion Lannister is a hero and an anti-hero. He tries to do good, fighting his father and his sister as well as many other enemies. He does it all while still being funny.
9 – Katniss Everdeen (The Hunger Games)
Katniss faces enemies in the games, twice, all while fighting against a corrupt government and President Snow too.
10 – Lyra Belacqua (His Dark Materials)
In the first book, Lyra fights Miss Coulter and the Gobblers, before the sequels introduce a corrupt government, The Magisterium, and finally larger evil forces that involve angels and god. I wasn't a big fan of the last book, but the series is still epic and Lyra is a tough heroine.
---
Do you have a favourite fighter of evil, or know a few I haven't included here? Leave links to your TTT list in a comment below so I can check them out…